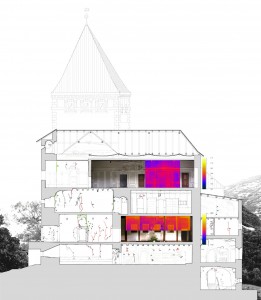 In the field of conservation, as in medicine, diagnosis means determining the nature or location of the disease based on the evaluation of symptoms.
Diagnostic techniques, applied to cultural heritage developed from the 80's, are now disseminated at all levels of the construction process for the assessment and decay measurement symptoms.
Laboratory applies the method of medical anamsesis to the historic heritage through different diagnostic techniques, e.g. masonry stratigraphy and the archival research.
To completely describe a historic building state of art, it is essential to know the sequence of actions that led to the current configuration. To define a comprehensive diagnostic framework is essential to integrate and understand the historical and instrumental data.
Results are coordinated and returned using the tradition of inventories and developed in the German linguistic area under the name Raumbuch.